PY708high performance intelligent melt pressure indicator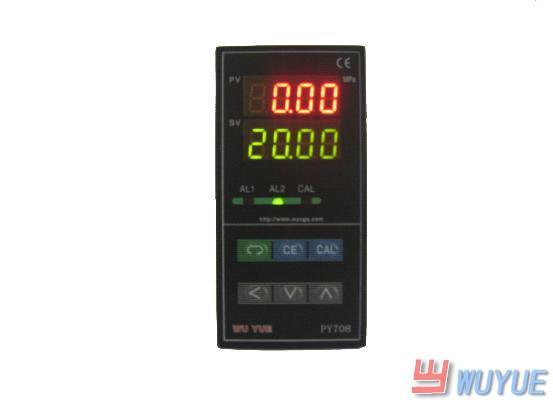 PY708high performance intelligent melt pressure indicator
Wuyue's PY708 series intelligent melt pressure indicators are high performance intelligent pressure measuring and controlling instrument, this product adopted double deck 4 nixie tube to display actual pressure value and set point separately, also has alarm for upper and lower limit and output by relay contact, alarms come with constant voltage or constant current output, linear output analog quantity (like 4-20mA or 0-10V.0-5V) can be connected to PLC or other controllers. The system adopted automatically panel adjustment, that makes system calibration can be easily done by pressing one button. Photoelectric isolated technology, software filter technique and watchdog circuit is adopted to ensure stability and reliability; switching power supply makes this product can work under low voltage of 120V. Wuyue's PY708 series intelligent pressure gauges are the best substitutes of those expensive world class like products, also can be compatible with sensors of output 3.3mv, 2mv, 4mv, 1.5mv.
Parameter:
1 Display: double deck 4 nixie tubes
2 Interior resolution: 32000
3 External resolution: 0.01MPa,0.02MPa,0.05MPa(setting data can be saved in case of power-off for more than 40 years when switching panel.)
4 Nonlinear: 0.02%±1, 0.05%±1
5 Range of setting alarm: 0~99.99MPa
6 Rated value of relay: 250VAC AC
7 Working way: continuously
8 Working condition: -10~55°C, ≤99%RH
9 Power supply: 220VAC (120V~250V)
10 Dimension: 48×96×100mm linear output, 4~0mA, 0~5V, 0~10V optional.