Products Instructions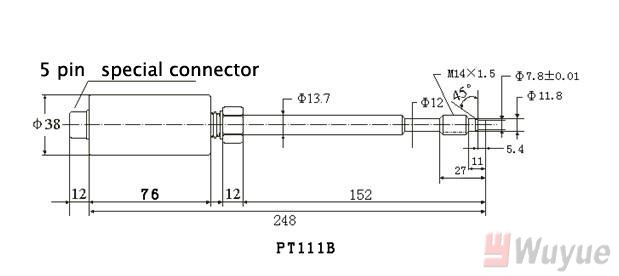 Rigid rod high temperature melt pressure transmitter has a feature of impact structure, applies to measure and control pressure of melt plastics and rubber or high temperature gas as well as high viscosity fluid

Metal hose melt pressure transmitter comes with a stainless steel hose between sensor and the probe, which improved its anti-interference performance by keeping the transmitter away from high temperature area. They are applied to measuring and controlling pressure of high temperature melt like plastics, rubber and fiber.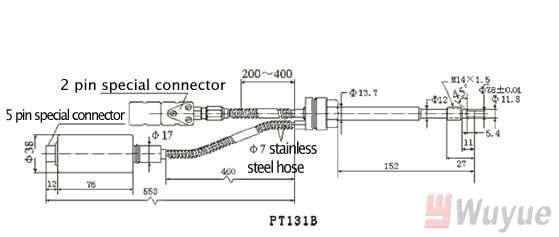 Dual-function transmitter, with the same pressure measuring part of PT124, is equipped with another temperature sensor, and this makes the probe can measure both pressure and temperature on a single spot. This series offer an optional melt temperature measurement with type J, K, E thermocouples or RTD.
High temperature melt pressure transmitter ordering guide:
1 Model: PT111B, PT124B, PT131B, PT150B, 151B
2 Measuring range: Maps
3 Standard thread: M14×1.5; optional thread: M22×1.5; M18 ×1.5; 1/2-20 UNF.
4 Rigid rod/metal hose length: 152/460mm for standard, 350/3000mm for max.
5 Output type: 4-20mA, 0-10m A, 0-10V, 1-5V, 0-5V
6 Thermocouple type for PT131B: J, K, E thermocouples or RTD.